PicoTrak is a Palm time tracking program for designers, contract workers, lawyers, or anyone else who needs multiple-project task management. It provides portable, easy-to-use project management and project tracking.
PicoTrak automatically keeps track of the time you spend on different projects thorughout the day; all you do is click to start and stop the timer. A detail view shows the daily totals for each project, and you can check off days as they are billed. Times can be displayed in a number of different formats (hours and minutes; hours and quarters, sixths, tenths, or hundredths of an hour).
PicoTrak is compatible with all Palm devices from the Palm Pro on up, including the Palm III, Palm V, Palm m100 series, Palm m500 series, Palm i700 series, Palm Zire, Sony Clie series, Palm Tungsten series, etc. It has been tested under and is compliant with Palm OS 5.
For information on new and previous upgrade features click here.
For a detailed description of everything that PicoTrak can do, see the PicoTrak user's guide.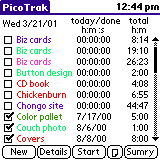 Read what our
customers are saying
---
Need Help? Start here:
Frequently Asked Questions
Features:
One tap starts an automatic timer for any selected project. Another tap stops the timer, or starts it for a different project.
Times can be displayed in a variety of different formats (hours and minutes; hours and sixths of an hour; hours and tenths of an hour; hours and quarters of an hour; or hours and hundredths of an hour).
You can assign an hourly rate to any project, and that rate will be used to show a monetary total (the time multiplied by the rate) in various places. You can assign a "default" rate to each client, and that rate will be used on all new projects created under that client. The rate for each project can also be set individuallly.
You can import a client/project list from a memo in the MemoPad.
A Summary screen displays the total times across all projects between any selected two dates.
The ability to export your data to a memo in the MemoPad in a CSV format. Perform a HotSync to transfer the data to your PC, then copy it from the Palm Desktop program and into any program that accepts CSV format, such as Microsoft Excel.
NEW: PicoTrak integrates with our desktop time tracking software, InerTrak. Use PicoTrak when away from your desk, then merge the data into InerTrak. You can view and sort the combined data, print invoices and timecards, and much more. A special upgrade price is available for current users of PicoTrakDesk who want the full integration and power of InerTrak.